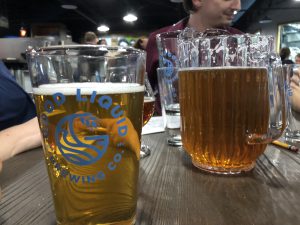 Need a beer? There are some amazing Breweries Near Anna Maria Island. What is more relaxing during a beach vacation to sunny Florida than enjoying a cold beer? If you are interested in exploring local craft breweries, you have come to the right place! The Sarasota/Bradenton area is home to many independent local breweries. Many feature outdoor dog-friendly and family-friendly beer gardens. This goes perfect with our Pet Friendly Vacation Rental Homes. They also host events such as food truck rallies, trivia, yoga, and bingo nights. 
Expanding out into St. Petersburg and Tampa, there are even more options for Breweries Near Anna Maria Island. These spots are within a 45-minute drive of Anna Maria Island. Several of them are local favorites that we especially enjoy. The brew masters and staff at each spot are inventive and enthusiastic about their unique brews. Well, are you ready to venture out from your fabulous Anna Maria Island vacation rental home to a Brewery Near Anna Maria Island? You won't be disappointed! Let us show you how the AMI Locals crush some cold ones at the best Breweries Near Anna Maria Island!
Bradenton Breweries
First, let's start in downtown Bradenton. You'll cross the Manatee Avenue Bridge from Anna Maria Island to the Bradenton Mainland. You'll continue down Manatee Avenue, you will find some of the best breweries. 
Motorworks Brewing Company
First up is Motorworks Brewing  features an amazing outdoor, dog-friendly, beer garden. It offers Cornhole, Human-Sized Jenga, Huge TV's and more daily. It is a great place to watch the big games on TV. On the weekends they offer live music. On Tuesday nights they offer yoga in the beer garden and bingo.  They have won numerous awards for their beers, including a gold medal at the 2018 U.S. Open Beer Championship for the Mango Habanero Snowflake Unfiltered IPA. I can assure you, is every bit as delicious as it sounds.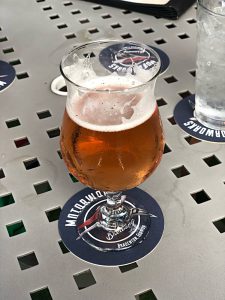 Darwin Brewing Co and Taproom
Just around the corner from Motorworks Brewery, and located right next to LECOM Park where the Pittsburgh Pirates have Spring Training, you'll find Darwin Brewing Co and Taproom. LECOM Park is also where the Pirates minor league team, the Bradenton Marauders play. One of the best ways to relax before or after a game is to head to Darwin and grab a brew! They always have something new and interesting to try.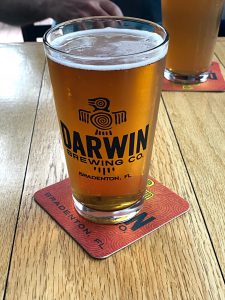 3 Keys Brewing & Eatery
Traveling a little further East on Manatee Avenue, you will find 3 Keys Brewing & Eatery. This brewery is family-owned and operated, and a super cool place to hang out. With a large comfy front porch and a flair for yummy beer, plus an original Nintendo, it is a great place to relax. Plus, they are also very involved in the local community. 3 Keys features a full kitchen (even with a "half-pint" kids menu!). This feature sets them apart from the usual food-truck fare you find at many craft breweries. They have a ton of board games and are very welcoming to kids and pets. Try to visit on one of their many event nights, Tuesday's – Name that Tune Poker is especially entertaining!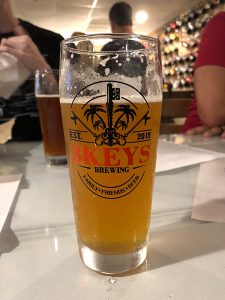 Good Liquid Brewing Company
From here, you'll head South West to US 41. You'll travel passed Manatee Ave (SR 64), passed Cortez Road, until you get to Good Liquid Brewing Co.  It is one of the newer kids on the block, but we love the energy and atmosphere of their taproom. They are owned and operated by a husband and wife team. They do some amazingly inventive things with their beer. Good Liquid features rotating small-batch brews, wine on tap, and even wine and beer slushies for the non-traditional beer drinkers in the group. Happy Hour on Tuesdays, Bingo on Wednesdays, Trivia on Thursdays, Pints & Poses Yoga on select Saturday mornings, and a monthly food truck rally… truly something for everyone!
Breweries Further South in Sarasota County.
Calusa Brewing Company
The first Brewery on our stop is Calusa Brewing. This is the one particular local brewery that really got us started on exploring taprooms and craft beer in the area. Ed, the taproom manager is a font of knowledge and appreciation for the fine art of craft beer. If you are lucky enough to visit at a time when he is behind the bar, just ask him to tell you what to try! On special "Limited Edition Can Release" Saturdays sometimes the line of people to purchase the beer is not only out of the door to the taproom… it's outside of the parking area and into the street. Trust me, Calusa is worth a trip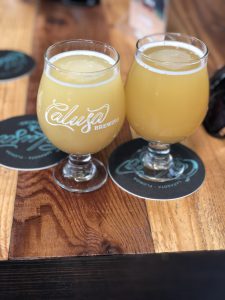 JDub's Brewing Co
JDub's Brewing Co feels like hanging out at your coolest best friend's house and backyard when you were growing up. It's fun and chill, with an especially impressive Food Truck Rally on the 3rd Saturday of every month featuring the finest eats that the Sarasota area serves on wheels! My favorite part of visiting (besides the beer) is the Storm Trooper artwork over the taps.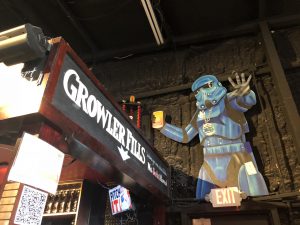 Sarasota Brewing Co
Sarasota Brewing Co has been around since 1989, serving up a full menu featuring Chicago-style pizzas in addition to their beers. It's tucked away in the Gulf Gate area so you are in a prime spot to really get that true Sarasota locals experience. They have at least 20 different seasonal brews on tap in addition to a core few that are always available.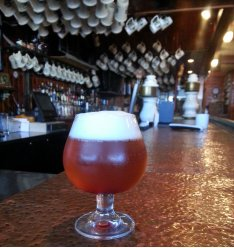 Big Top Brewing Co
Big Top Brewing Co fully embraces the Circus history of Sarasota with their décor, logo, and sense of adventure in trying all sorts of (possibly) crazy ideas for flavors in their beers. I have had everything from a magnificent triple IPA to their award-winning Coconut Coffee Porter, the Hawaiian Lion. Love love love! They host indie craft markets, 5k fun runs, trivia (not to brag – but we won one time!) and more. Check them out!