The beach flag warning system is meant to protect all of us from potentially dangerous situations and elements. 
It's not only smart but fun to learn about beach safety. We all want to get out in the beautiful beach water as quickly and often as possible, but we also need to stay safe! When you are staying at one our our AMI Locals Beachfront Properties this information can be especially useful, but really it is just great information to know.
Let's check on the meaning of each flag:  
Green Flag – Low Hazard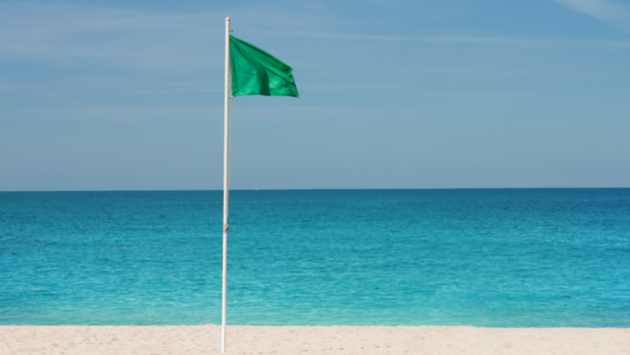 A green flag means that the threat of danger is low, and you should be safe when heading out into the water. However, the green flag does not mean that we should throw caution to the wind. We still need to exercise safety in the water and watch children and weak swimmers closely. There is never a reason to take chances. Better safe than sorry. 
Yellow Flag – Medium Hazard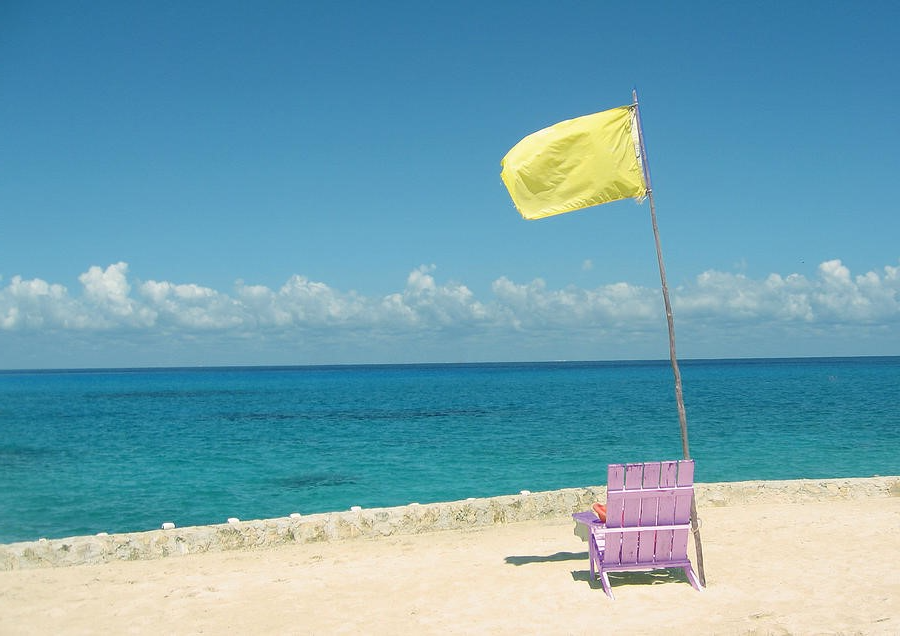 The yellow flag does means that there is a potential for danger, though not life-threatening. We must use extra caution when we see the yellow flag. Ocean conditions could be more rough than usual with moderate surf and/or currents! Anyone swimming or enjoying the water should be extra aware. Again, children and weak swimmers may be more vulnerable when the yellow flag is out. When possible, stay near a lifeguard station or sit out on the beach and enjoy fun on the side until the water calms.  
One Red Flag – High Hazard
HIGH ALERT! One red flag means business! It is a sign of dangerous currents, high surf or both. The red flag is the most serious among the beach warning flags, and everyone is strongly discouraged to enter the water.  
Two Red Flags – Closed to Public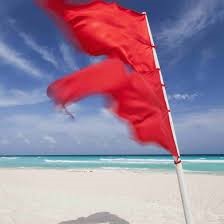 Two red flags means – STOP – the beach and water are closed to the public because of extremely dangerous conditions. Do not attempt to swim or enter the water when there are two red flags under any circumstances!  
Purple Flag – Dangerous Marine Life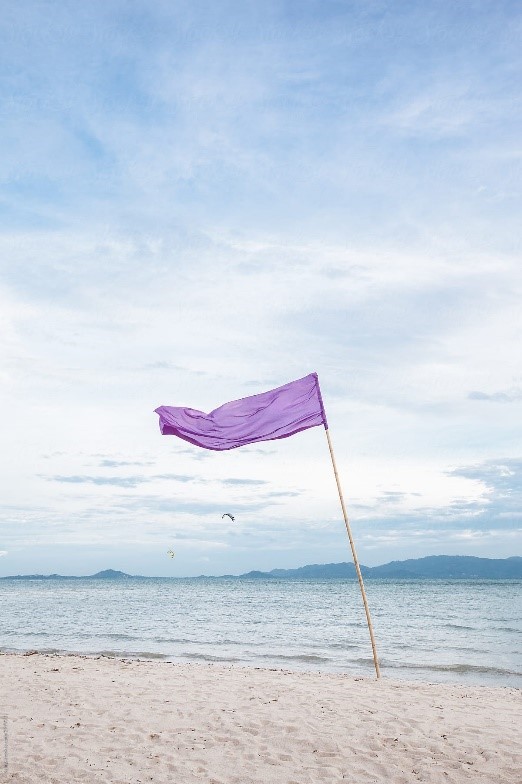 The purple flag indicates that there is dangerous marine life out on the water or beach. This could mean stingrays, jellyfish, sea snakes, or other marine life. Anything except sharks – If a shark is in the water, then a red flag or double red flag will be hoisted. Not taking any chances with those guys!  
Red over Yellow Flag
Lifeguard on duty! The is a welcome flag. The red over yellow flag does not mean something is inherently dangerous. It is saying, hey you are in good hands. The red over yellow flag signifies a recommended swimming area that has lifeguard supervision.
If available at your beach, we always recommend swimming within red over yellow flag areas. 
Black and White or quarted Flag
The black and white or Quartered Flag sometimes used in pairs and spaced apart, indicate a designated area or zone along a beach or waterfront that is being used by those with surfboards and other non-powered watercraft. They are just to make sure beach goers are aware of this and stay safe from the hazard of collision with any type of watercraft. 
The Black Ball Flag
Opposite of the black and white, quarted flag the black ball flag prohibits the use of Surfboards and other non-powered watercraft where this flag flies.
There are multiple national and regional variations, but the majority of signs are universal. Jump in and enjoy – but as always, be cautious!  
Rip Tides – Currents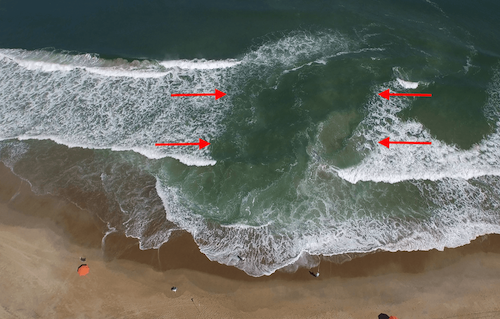 Rip tides and currents can catch you off guard, sweep you out into deep waters very quickly and cause you to lose control. Rip tides can be very powerful especially when there is larger surf, and even if you are a very strong swimmer there is still a possibility you can be pulled out by these harsh currents. Areas near Bays, river mouths, estuaries or piers are usually the most dangerous areas for rip tides and currents to arise.  
If you do get caught in a rip current, the RNLI advice is to: 
– Stay calm, and try not to panic
– If you are able to stand, wade rather than swim
– If you have a board, keep hold of it as it will help you float
– Raise your hand and shout for help
– Swim parallel to the beach until you are out of the rip, then make your way to shore.
Everyone should learn how to stay safe in the surf, sand, and sun. The beach and the ocean hide many hazards. Make sure to be aware of these visual signs that can be spotted on your favorite beaches.
Now that you know the drill, get out there and enjoy our island!