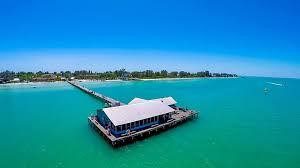 The Anna Maria Island City Pier
The Anna Maria Island City Pier has been a landmark on Anna Maria Island for more than 100 years. If you have ever visited us on beautiful Anna Maria Island then you have probably visited, or at least seen, the Anna Maria Island City Pier.  
History
For more than 100 years, this wooden plank walkway has allowed visitors of all ages stroll back in history and relive that "Old Florida" charm. George "Will" Bean and Charles Roser built the original pier in 1911. Fishing boats and steamboat excursions used the pier for harbor and dockage space. The earliest of tourists filled big paddle wheel boats such as the Mistletoe and the Favorite for a chance to explore the alluring barrier island. At that time there were no bridges linking Anna Maria Island to the mainland. These boats were the only way visitors could enjoy the beautiful and unspoiled beaches of Anna Maria.
Over the Years
The Anna Maria Island City Pier has weathered many storms and hurricanes throughout the years. Restoration and repairs always followed. Eventually, the "old school" bait shop and popular restaurant took over the 776 foot pier. Because of this the Anna Maria Island City Pier became even more of a destination for locals and visitors alike. Fisherman adorned the edges of the platform. Hoping to catch their dinner they casted lines into the bay and shared warm-hearted stories about their beloved island. All were welcome at the Anna Maria Island City Pier. For decades this was life until mother nature lashed out with Hurricane Irma in 2017.
After the Storm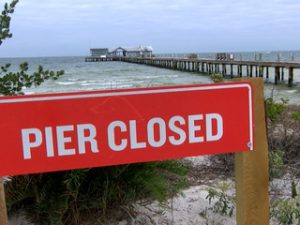 After this iconic storm barreled across the State of Florida, the fate of the Anna Maria Island City Pier was left in shambles . Luck had run out. The gates were locked, and the City Pier was now in a position to be totally replaced. Flocking birds and schooling fish replaced the fishermen at the pier. The birds set up nests, and the fish found an unfamiliar refuge, on the eerily quiet pier and waters. 
The Rebuild Process

Demolition started very carefully. One by one the planks were removed. Sadly, some planks contained inscribed family names and remembrances, making this even more personal for some. The re-building of the Anna Maria Island landmark  was underway, and visitors and Locals alike will have to wait patiently for the finished product. So, the next time you are staying in one of our AMI Locals' waterfront or vacation properties, be sure to stroll over to the Anna Maria Island City Pier. The view is always just as beautiful and the history is just as rich no matter what phase of the project the pier is in. So, be sure to visit our list of available rentals, and remember to Vacation Like a Local!