It's the most wonderful time of the year, especially Christmastime on Anna Maria Island. Winter is a beautiful season to visit our little piece of paradise. And there is so much to see and do in December when you stay in a luxury vacation rental property! It's time to share our AMI Locals cheat sheet of holiday events & happenings on the Island and nearby. Tag us in your holiday island adventures on facebook & instagram @amilocals!
• The AMI Chamber of Commerce Annual Tree Lighting & Holmes Beach Holiday Open House
Friday, December 6th from 5 PM – 8 PM.
https://www.facebook.com/events/423890301878746/
The shops and stores of Holmes Beach open their doors to welcome the community for this fantastic event. They provide treats, special holiday sales, live music and the tree lighting happens at 6 PM in the Chamber of Commerce parking lot – you won't want to miss this!
• The Anna Maria Privateers Island Christmas Parade
Saturday, December 14th at 10 AM.
http://amiprivateers.memberlodge.org/event-3624031
The Privateers host this parade every year, spreading lots of Christmas cheer. And, of course… you can see Santa! You will be able to find a good spot to watch the parade anywhere along the route. It begins at 10 AM at Coquina Beach Park in Bradenton Beach on the southern end of Anna Maria Island and continues all the way to City Pier Park on the northern tip in Anna Maria.
• Santa in the Park and Anna Maria Holiday of Treasures
Friday December 13, 4 PM – 8 PM
https://www.annamariaislandchamber.org/events/santa-in-the-park-and-city-of-anna-maria-holiday-of-treasures/
Visit Santa at City Pier Park, 101 North Bay Blvd, enjoy refreshments and live holiday music from 4-6pm. Stroll through the City of Anna Maria from 5:30 PM – 8 PM enjoying merchant supplied lite bites, refreshments and holiday cheer.
• 2nd Annual Bradenton Beach Holiday Boat Parade at Bridge Street
Saturday December 14, 7 PM – 8 PM
https://www.annamariaislandchamber.org/events/2nd-annual-bradenton-beach-holiday-boat-parade/
The boat parade route will start at Jewfish Key at 7pm and head north, motoring past the Historic Bridge Street Pier and ending at Bradenton Beach Marina. Christmastime on Anna Maria Island by boat is magical!
• December Artwalk: A Village Wonderland
Friday December 13, 6 PM – 9:30 PM and Saturday December 14, 11 AM – 4 PM

Enjoy the lights and galleries decorated for the holidays. Live music, strolling entertainment, unique holiday shopping, and tasty treats during one of Bradenton's favorite holiday events. Friday night 6-9:30 pm and Saturday 11am-4pm.
• Christmas on Bridge Street
Saturday December 14, 4 PM – 8 PM
https://www.annamariaislandchamber.org/events/christmas-on-bridge-street/
Enjoy an afternoon and evening on Bridge Street celebrating the holiday season! Bridge Street will be closed to traffic. Live bands, the local chapter of the Sweet Adelines International Singers, a cornhole tournament, free children's Christmas ornament making activities and food tastings are some of the fun planned for the day.
• 2019 Manatee River Holiday Boat Parade
Saturday December 14, 6 PM – 10 PM https://www.facebook.com/events/474870269781486/
A short drive off of Anna Maria Island, the downtown Bradenton boat parade kicks off at sundown at Snead Island and makes it's way up the river to Caddy's offering public viewing locations along the Green Bridge and Bradenton Riverwalk.
• Robinson Preserve Light Festival
Saturday December 21, 6 PM – 9 PM
https://www.facebook.com/events/1595153717290899/
After sunset on the winter solstice, head over to the Robinson Preserve for an evening of reflection and contemplation. A candlelit trail will be assembled for a single night – you are invited to walk the path in mindful meditation. Take some time during this busy season to slow down, observe the lights, and enjoy the beauty of Robinson Preserve at night. Program suitable for all ages. Reservations are required for a Lantern Kit.
• Palmetto's Historical Park – Christmas in the Park
Saturday, December 7th from 3 PM – 8 PM
https://www.facebook.com/events/459835937993496/
Start your holiday festivities with "A Classic Christmas" at Palmetto's Christmas in the Park. This free event offers something for everyone: decorated buildings, kids' crafts and contests, Reindeer Games, and of course, Santa. A snow hill will also be on hand for children to slide down. Santa Claus will be arriving at 4:00 – bring your camera for a photo with the big guy himself!
• Acqua Aveda Salon, Spa & Store – Annual Holiday Open House
Friday December 6, 9 AM – 7 PM
https://www.facebook.com/acquaaveda/
Come out anytime on December 6th for discounts on products and pre-booked appointments. Get ready for your holiday celebrations with perfect nails and hair!
• Pink & Navy Boutique – 2019 Holiday Party
Saturday December 13, 5:30 PM – 8 PM
https://www.facebook.com/events/712489402905909/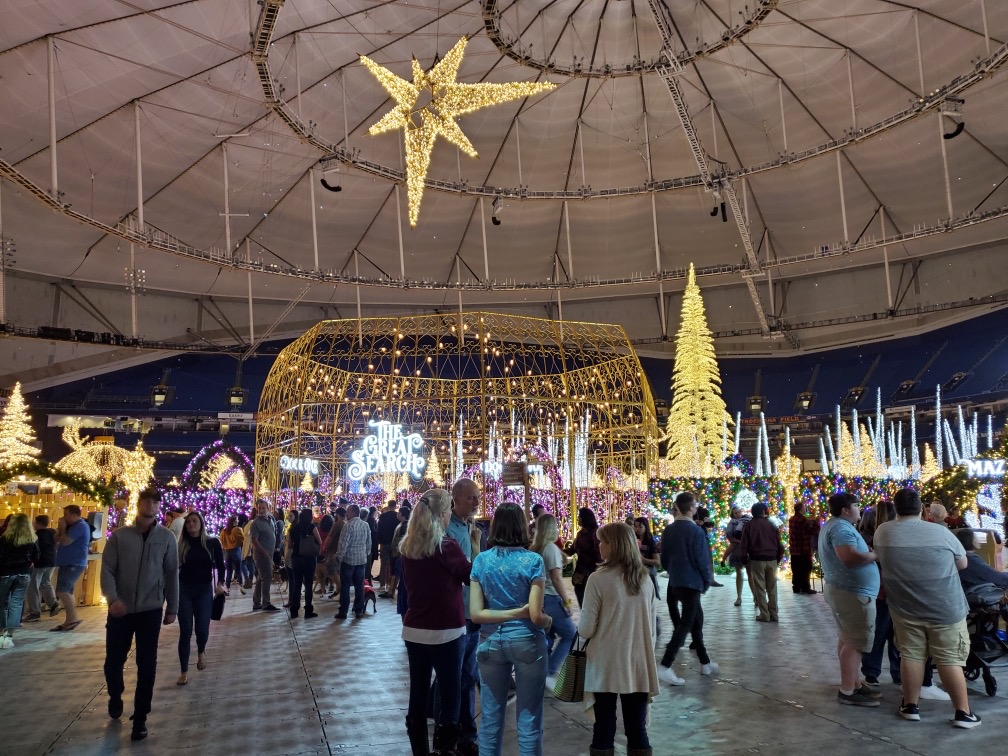 • Enchant Christmas St. Petersburg
now through December 29
https://www.facebook.com/events/377307009888020/
About a 45 minute drive north of Anna Maria Island, but oh so worth it! The World's Largest Christmas Light Maze and Market is at Tropicana Field in St. Petersburg, FL, November 22 – December 29, 2019. The event is also host to a bustling artisan Christmas Market, an Ice Skating Trail, seasonal food and beverage, and visits with Mr. and Mrs. Claus.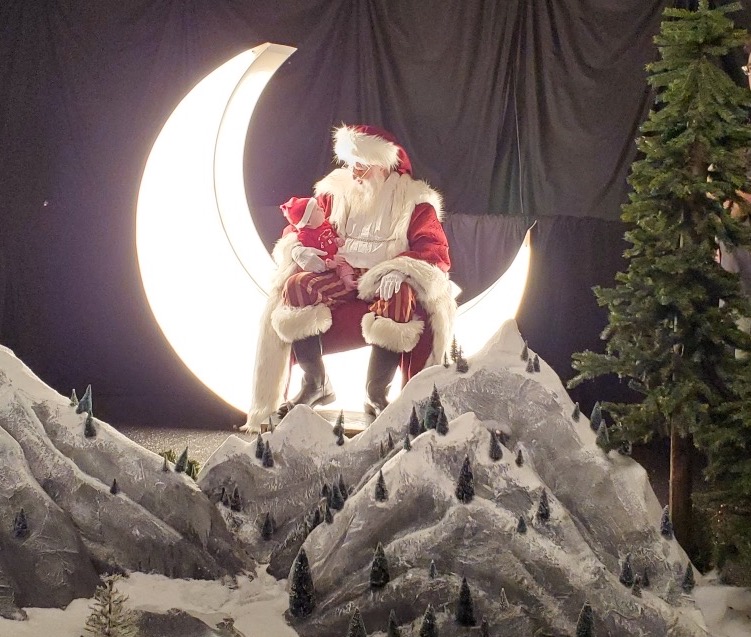 So, as you can see there's more to Christmastime on Anna Maria Island than just sipping eggnog on the beach in 70 degree weather. But we won't judge if that's all you want to do! Happy Holidays from AMI Locals!