CHRISTMAS ON ANNA MARIA ISLAND
Yes, spending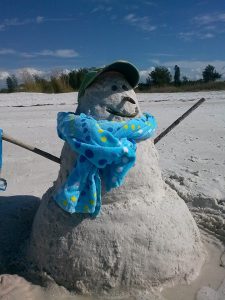 Christmas on Anna Maria Island is just as dreamy as it sounds! Just imagine trading snow drifts for sand dunes, pine trees for palm trees, and snowmen for sandcastles! If any of these visions light your yule tide log, then you should not waste another second and start planning your holiday vacation to celebrate Christmas on Anna Maria Island! AMI Locals is here to help you find the perfect vacation home for your family and friends.
WHAT IS THERE TO DO?
Movie at the Pier – December 5th
Christmas spirit is in full swing on the Island, and everyone is ready to celebrate Christmas on Anna Maria Island! You will not run out of fun options no matter when you plan to visit during the month of December. First, starting December 5th, catch a family friendly movie under the stars at the City Pier Park on Pine Avenue. Show starts at 6:30pm and refreshments will be served.
Holmes Beach Tree Lighting – December 7th
Next, be sure to mark your calendars for the Holmes Beach Holiday Open House & Tree Lighting! This crowd-pleasing event takes place on December 7th from 5:00p-8:00p. The stores will stay open late, carolers will sing merry tunes and refreshments will be enjoyed. Be sure to get a picture in Santa's sleigh with the jolly old man himself!
AMI Privateers Christmas Parade – December 8th
As a matter of fact, you can also spot St. Nick in the AMI Privateer's Christmas Parade on December 8th at 10:00 am. This Christmas caravan starts at Bayfront Park and stretches the entire length of the island, finally ending at Coquina Beach where the kids can visit with Santa and receive a special gift. Christmas on Anna Maria Island isn't the same without the Privateer's Parade and a visit from Santa. No matter where your awesome vacation home is, you are close to the parade route! So be sure to pull out the chairs and join in the merriment!
Holiday of Treasures – December 14th
The holiday celebrations will continue on December 14th at The City of Anna Maria Holiday of Treasures! Start in the park with Santa and join in singing Christmas carols from 4:00p-6:00p. Then, casually take an evening stroll down Historic Pine Avenue from 5:30p-8:30p all the while relishing in the sounds and sights of the Christmas season. Get some shopping done at the unique shops that adorn the street all while enjoying drinks and snacks provided.  If you happen to be staying in Holmes Beach, there will be a similar event from 5:30p-7:30p at the Shops at Anna Maria Island Centre.
Other Events and Ideas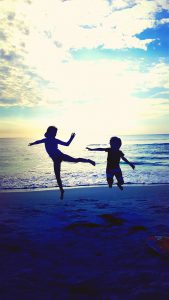 There are so many holiday happenings just off of the island in neighboring Bradenton and Sarasota too! Keep tabs on all the fun by visiting our EVENTS CALENDAR for up to date information! On the other hand, maybe you are just ready to kick back and relax at the beach!  Well, you are in luck, as we have some of the most beautiful beaches in the country. Take a short walk from your vacation home with awesome gulf views and stick your toes in the sand!
GET YOUR GRUB ON!
As usual, great food is in abundance on Anna Maria Island. Be sure to visit some of our favorite local hangouts such as Duffy's, The Waterfront & the Sandbar to quench your thirst and your appetite! Check out our THINGS TO DO PAGE to find a place to head out to.
If you are looking to have dinner delivered and relax by the heated pool of your waterfront vacation home, be sure to take advantage of Island Eats! This locally owned food delivery service brings some of the most popular island restaurants right to your door!
Lastly, if you want to dine island style when celebrating Christmas on Anna Maria Island on Christmas Day, then head over to the Anna Maria Island Beach Café! You can join Santa himself for breakfast from 9:30a-11:30a before he heads back to the North Pole. Or stop in anytime between 12:00p-5:00p for an All-You-Can-Eat traditional Christmas Dinner buffet with all the fixings. If you time it right, you will be in the perfect spot for a beautiful December sunset! What more could you ask for?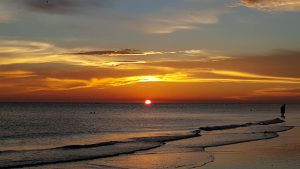 COME VISIT US!
We know that you will LOVE the holidays on Anna Maria Island just as much as we do. So come on down and let us host you in one of our spectacular vacation homes! We have just what you are looking for! And we even have a large selection of Pet Friendly Homes, so there is no need to leave your furry family members out of all the fun! Our AMI Locals team of property managers are standing by to answer any questions you may have, so feel free to reach out! Happy Holidays to all of you from all of us at AMI Locals!