New Years on Anna Maria Island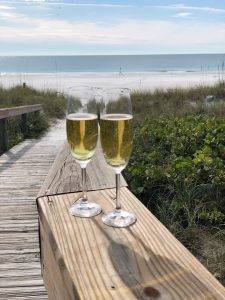 It's almost time to Ring in 2019! What would be a better way to celebrate New Year's Eve than toasting with champagne on the sandy shores of Anna Maria Island? Check out our favorite Local ways to celebrate New Years on Anna Maria Island! Oh ya, and some amazing homes that are still available for you to reserve!!
Places to Go and Things to Do
The Beach House Restaurant
200 Gulf Drive North, Bradenton Beach, FL
The Beach House Restaurant is a great place to watch sunset, grab a happy hour cocktail, or ring in the New Year on Anna Maria Island. Check out the video below to see for yourself! Although the exact event details have not been announced at the time we are writing this, we are assured that it will be very similar to last year's New Years Eve event. So, you can look forward to dancing the night away with a DJ from 8:30pm – 12:30am. The Beach House will feature dinner and drink specials, and a fantastic fireworks display! This will definitely cap off the evening and send you into 2019 with a big smile on your face. Come and stay with us in one of our nearby luxury vacation rentals that are still available for New Years Eve! Amazing homes like Nautical Tides, Gulf View Beach House, or Tropical Hideaway are still available. You'll be sure co celebrate New Years on Anna Maria Island the right way, cheers!
Main Street Live!
Old Main Street, 400 12th St W, Bradenton FL
Main Street Live! It's a block party from 5:30pm – 2am EST! Main street traffic is shut down and all of the restaurants, pubs and bars are open! Walk around Downtown Bradenton and enjoy the festivities. There will be a concert stage with live music all night from 5:30pm – 11:30pm EST. There will be a large Street Fair. It will include food trucks and local merchants. Grab a bit to eat and stroll, snack, and dance your way into the new year.
Old Main Street in Bradenton is an eclectic mix of old and new, with a place for everyone. The Village of the Arts is nearby as well, with even more fun offerings. There are numerous bars and restaurants, and plenty to do if the Street Fair and Main Street Live is too much for you. Tuck into a bar or restaurant and enjoy. Your property manager would be happy to give you any advice on which places to go and what to do if you need more specifics. Or, do it all! There is a good chance you'll run into the AMI Locals here.
Sarasota Pineapple Drop
Gulf Stream Avenue and Main Street, Downtown Sarasota
After all, why watch the ball drop like everyone else in the USA? Boring! Instead, every year on December 31st, from 1pm – 1:30am EST, Sarasota counts down to midnight and drops a large light up Pineapple! Main Street in downtown Sarasota is blocked off for an awesome street fair all afternoon and evening. There will be a ferris wheel, carnival-style fairway with games, funnel cake, and live music into the wee hours of the brand-new year, 2019. Fireworks also happen at midnight over Sarasota Bay, so you will be in a prime viewing spot!
Transportation – Get Home Safe
Picking a place to spend your New Years on Anna Maria Island is almost as important as making sure you get there, and back home safely! Don't worry though, we have you covered with tons of Transportation options! Anna Maria has a lot of options for our guests. Don't stress about a designated driver, parking, or having an extra cocktail when celebrating!
The AMI Free Trolley is a great option to get around the island. If you want a little more lively environment, and transportation that runs late, be sure to check out the Monkey Bus. It is always easy to use, fun, and a great way to get around. If you need something more private or luxurious for your New Years on Anna Maria Island, be sure to contact Mark at Coastal Limousine. He has an assortment of vehicles. He is professional, timely, and always available for your transportation needs. Uber is also another option.
Follow the links provided above for Contact information, hours of operation, and more details.
And Remember, no matter how you choose to celebrate the New Year on Anna Maria Island, our entire team here at AMI Locals want to wish you and yours a very happy and healthy 2019!