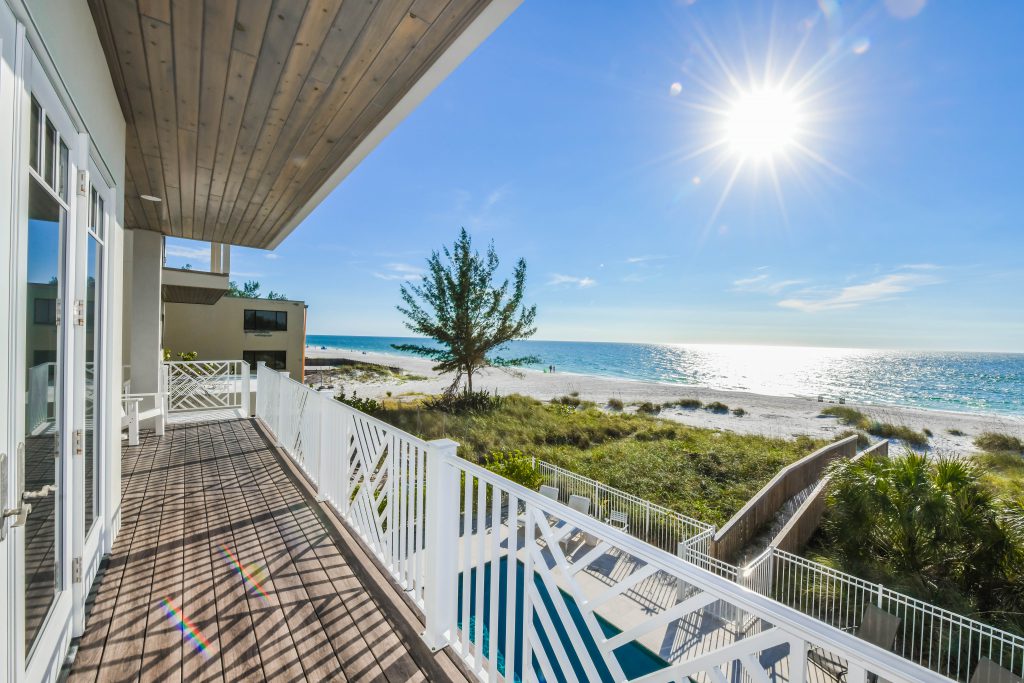 When and Why?
Labor Day Weekend on Anna Maria Island is filled with cocktails by the pool, lounging at the beach or in the calm Gulf waters, or feasting on freshly caught Florida Lobster.  This is the last holiday of the Summer, and before the stresses of work and the Winter holiday season kick in, come and enjoy some fresh Florida fun, relaxation, and life. Life is a lot easier when you're floating in a perfect blue pool, boating around Tampa Bay, or looking out at the tranquil Gulf of Mexico with sandy feet and a cold beer in your hand, isn't it? This year, Labor Day Weekend occurs on Saturday, September 1, 2018 – Monday, September 3rd, 2018.
Places to Stay
AMI Locals can help you find the perfect spot to enjoy that breath of warm fresh air before the chilly fall days and school starts again back home. Luckily, our Anna Maria Island vacation luxury rentals make it easy on you. All our homes are within easy walking distance to a beach. Most of our vacation rentals also have Pools, Spas, and are Pet-Friendly. Check out Avalon, Blue By You, and Atlantis Beach House! Manatee Public Beach in Holmes Beach, Coquina Beach in Bradenton Beach, and the Bean Point area in Anna Maria are all great places to soak up the sun and relax on Anna Maria Island. Grab your sunglasses and start enjoying life! 
Things to Do
Our gorgeous island and community offer far more than just our world-renowned beaches. You can:
Do as much of this, or as little of it as you'd like, it's your vacation. Thankfully, we've compiled a giant list of things to do for you, so check all of them out on our AMI Locals website.
Lobster Season and Places to Indulge
After working up an appetite with all of these adventures, keep in mind that Florida Lobster season runs from August through March. Get your lobster bibs tied on tight and check out these awesome eats.
Beach Bistro

– don't miss their heavenly Butter Poached Lobster & Pan Roasted Gulf Shrimp entrée.

The Waterfront

– try the Smoked Margarita, then enjoy a fabulous bowl of lobster bisque.

The Sandbar

– Pop a bottle of Veuve Clicquot and dig into the Sandbar's fantastic Seafood Tower! Florida lobster tail, seasonal crab, jumbo shrimp, premium oysters, middle neck clams and smoked fish dip.

Anna Maria Island waterfront rentals

are definitely the best way to kick back and watch the sunset after a feast like this.
Events

While visiting, you can also check out a few fun Labor Day events occurring in the area. These will help you celebrate the "unofficial end of Summer"!
Florida Studio Theatre

's summer season has the FST Improv Troupe's

Comedy Lottery

happening Saturday, September 1 at 7:30pm. Join the cast for a show that you help make up… literally! Before every show, 12 lucky audience members will be selected. Those participants will be asked to randomly select out of the FST Improv infamous bucket of over 50 games. Those 12 games will comprise the lineup for that night which will feature a unique combination of scenes, sketches and songs selected by you and your peers!

If participation isn't your thing, Florida Studio Theatre also features

Gilbert & Sullivan Unplugged

on September 1, at 6pm & 9pm.

Gilbert & Sullivan Unplugged

 has delighted audiences across the US. They have done this through lovingly loopy renditions and joyfully irreverent excerpts from 

HMS Pinafore, The Mikado, and The Pirates of Penzance

. Location:

1265 1st St, Sarasota, FL 34236

The Sarasota Sailing Squadron

will host the 72nd Annual Labor Day Regatta on September 1st and 2nd, 9am-4pm.  

The event brings more than 300 competitive sailors from across the U.S. and Canada. It draws nearly 1,000 visitors to the area each year. Activities include 5 separate race courses, live music, BBQ, refreshments and an awards ceremony. Viewing of the event is free and open to the public.  Location:

1717 Ken Thompson Pkwy, Sarasota, Florida 34236

The Summer of Rum Fest

is taking place September 1st & 2nd, 12pm-11pm in Curtis Hixon Park, downtown Tampa. 

Music, Sunshine, and… Rum. You'll find all of the tropical drinks your inner pirate craves!  Featuring Cruzan Rum, Blackheart Spiced Rum, Kraken Black Spiced Rum, Appleton Estate Rum, and many more. Enjoy rum from around the world. Age:

21+ up. Ticket prices vary. Location:

600 N Ashley Drive, Tampa 33602 
 Whatever your ideal Labor Day weekend, you can find it here on sunny Anna Maria Island. However, make sure you #vacationlikealocal with #amilocals.